A bathroom is a place of rejuvenation, where we start and end our day. So why not make this part of the house a luxurious oasis? With a little creativity, even the most petite powder room can feel like a five-star retreat.
Of course, luxury doesn't have to mean expensive. Sometimes it's simply a matter of paying attention to the details. In this blog post, you'll find some tips for making small bathrooms look luxurious.
The Right Colours
One of the easiest ways to give a small bathroom a luxurious makeover is to change the colour scheme. Here are a few luxurious colours that would be perfect for a bathroom:
Deep, rich burgundy
Stately navy blue
Opulent gold
Sumptuous plum
Rich chocolate brown
These colours will give your bathroom an air of luxury and sophistication. But if you want your bathroom to appear bigger while being luxurious, you can opt for light, airy colours like:
These colours will open up the space and make it feel larger. If you're feeling bold, you can even experiment with a statement wall. Just be sure to keep the rest of the room subdued so it doesn't feel too busy.
Lighting
Good lighting is especially important in a small space. Poor lighting can make a room feel cramped and claustrophobic. There are a few key things to keep in mind when lighting your small bathroom to create a luxurious look:
· Use Plenty Of Light
There's nothing quite like the feeling of a spacious, well-lit room. Natural light is always best, but if you need to use artificial light, try to use as many bulbs as possible to achieve a bright effect. This will help open up the space and make it feel more airy and spacious.
· Choose Warm Colours For Your Light Fixtures & Accents
When choosing colours for your light fixtures and accents, opt for warmer shades to create a cosy feeling in the space. Warmer colours are inviting and can help to make a room feel more intimate. Stick to hues like amber, gold, and red to really bring the heat. When used judiciously, these colours can add a touch of luxury to any room. So if you're looking to create an inviting atmosphere, don't be afraid to go for some warmth with your colour palette.
· Use Task Lighting
By placing a light fixture above the vanity or mirror, you can easily see what you're doing, making it much easier to get ready for your day. Plus, the right lighting can help to create a more flattering look, so you'll start your day feeling confident and looking your best. So if you're looking for ways to make your bathroom luxurious, consider adding some task lighting. It'll make a world of difference.
With these tips in mind, you can create a lighting scheme that is both functional and stylish.
Mirrors
If you're looking for a way to add some luxury to your small bathroom, adding a mirror is a great way to do it! Mirrors can make a room feel more spacious and elegant, and they can also help you get ready in the morning.
When choosing a mirror for your bathroom, it's important to think about the style of your bathroom. If your bathroom is modern and minimalist, then you'll want to choose a sleek, simple mirror. If your bathroom has more of a traditional or antique look, then you'll want to choose a mirror with more embellishments.
No matter what style of bathroom you have, there are plenty of beautiful mirrors to choose from at the Richmond bathroom store or from a bathroom shop in your location that will fit right in. So take your time picking out the perfect one for your space.
Greenery
A small bathroom can be made to look luxurious with a few simple tweaks. For starters, try adding some lush greenery. Plants not only make a space feel more alive and inviting, but they also help to purify the air.
If your bathroom doesn't have a lot of natural light, consider opting for darker green plants that will thrive in lower light conditions. Some good options include English ivy, philodendron, and ferns. If you're looking for something that will add a pop of colour, try adding some brightly coloured flowers like orchids or lilies.
No matter what type of plants you choose, be sure to keep them well-maintained so they always look their best.
Glass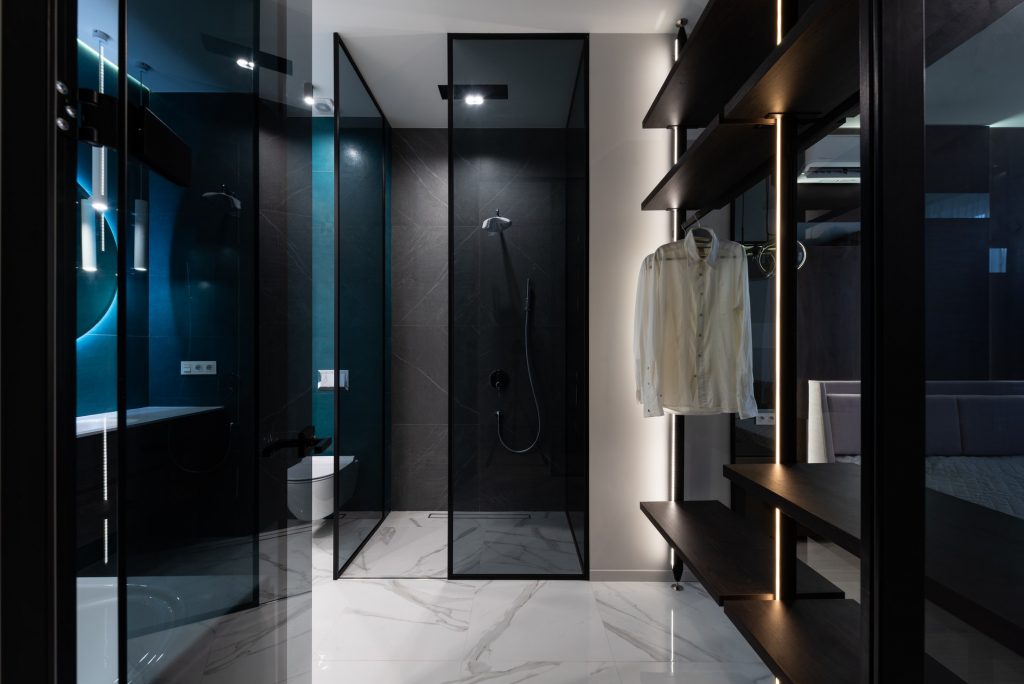 A glass shower enclosure is a great way to add a touch of luxury to your small bathroom. It will make the room feel larger and more open, and it's a great way to show off your beautiful tilework or marble flooring. Plus, it's easy to keep clean and maintain, which is important in a small space.
If you're looking for something a little more opulent, consider adding a frameless glass door with etched details or decorative hardware. This will add an extra touch of elegance and sophistication to your bathroom. Whatever you choose, be sure to select a high-quality glass that will withstand everyday use and moisture.
Storage
Well, there are a few things to consider when looking to add storage to a small bathroom. Obviously, you want something that is going to be functional and help you organise your belongings, but you also want something that is going to look luxurious and stylish. Here are some storage ideas that will give your space a high-end look without busting your budget:
Get creative with shelving. Install open shelves above your sink or toilet to store and display pretty towels, toiletries, and accessories. Or, consider adding a floating shelf near the tub for easy access to bath supplies.
Utilise unused wall space. Hang baskets on the wall to store toiletries or put up peg boards to organise makeup and other small items.
Install hooks. Towel hooks are great for storing spare towels or robes, while extra coat hooks can be used to hang laundry.
Whatever you choose, be sure to select materials and finishes that will reflect the high-end look you are trying to achieve. By following these tips, you can easily transform your small bathroom into a luxurious oasis. With a few simple changes, you can create a space that is both stylish and functional.